The hoildays are such a blast with our children!
New Years, with its late hours and toasts, may seem adult-oriented but there are plenty of ways to include children for some earlier, fun-filled celebrations.
Here are some fave ideas from our Celebrating with Children Pinterest Board:
GAMES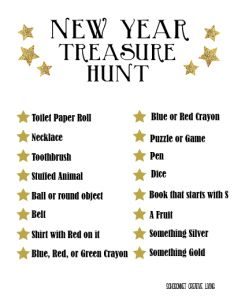 New Year's Treasure Hunt: have the children go on a fun, scavenger hunt for easy-to-find items around the house!
Find Minute it to Win It Games for kids online, such as cup-stacking and ping-pong ball races.
Make a New Year's Eve ball with leftover wrapping paper/wrapping supplies.
Create a countdown clock slider with a paper plate and numbered ribbon.
NOISEMAKERS
Glue bells onto large craft sticks with ribbon for a festive, jingly sound.
Enclose rice in a cardboard tube by securing a small piece of wax paper (with a rubber band) over each end.
Fold an aluminum pie tin in half, fill with beans and staple shut.
Use ribbon to tie bells into bunches and then secure them around a crochet hoop or other circular object.
FOOD
Make a yummy New Year's drink by placing cotton candy in a cup and covering with clear soda.
Serve candy or trail mix in plastic champagne flutes.
Make more mocktails by mixing soda with sticks of rock candy or gummy bears.
Frushi: exactly what it sounds like. White rice, fruit roll ups, and fruit! Let older children roll their own.
Have a safe and happy New Year!