Welcome to our Creative World School Exploratorium™, a World of Wonder! This bright, open, conceptual space is where children practice iSTEAM learning every day. You won't find this kind of learning anywhere else! (Exploratorium™ programs may vary by location.)
What makes our Exploratorium™ one-of-a-kind?
1.

It is a World of Wonder… a "WOW!" You will be truly amazed when you walk through our doors and see Exploratorium™ learning in action. Our students look forward to their visit each and every day! The design of this room is inspired by children and equipped with special materials and experiences to enrich and strengthen their learning opportunities.

2.

Collaborative small group learning. This unique and interactive learning environment provides students with the opportunity to rotate through specialized learning stations that promote hands-on learning and educational learning.

3.

STEAM learning happens here! In our Exploratorium™, children investigate their world through Science, Technology, Engineering, Art, and Math. We integrate fun STEAM engagements into our everyday curriculum to enhance children's critical thinking.
4.

Exclusive proprietary curriculum. Each month, our students explore a new topic that not only integrates STEAM, but also introduces a literary and artistic genre. This approach provides children with the opportunity to cultivate their knowledge of the arts with kid-friendly, yet concrete, experiences.

5.

Specialized Exploratorium™ teacher. This unique environment is powered by an equally unique and experienced teacher who partners with the classroom teachers to facilitate each station in the Exploratorium™.

6.

Outside the box and creative thinking.  Our 3 E's: Foundations of Excellence™ learning stations are Education, Enrichment, and Exploration. These interactive stations are designed to inspire children to wonder and question as they explore, experience, and discover. Learn more about our Exploratorium™ stations below!
Exploratorium™ Stations
Our Exploratorium™ offers three different interactive Learning Stations:
Education, Exploration, and Enrichment.
Education
The Education Station focuses on developing children's intellect through integrated small groups.
During the week, children experience each of the following Learning Domains: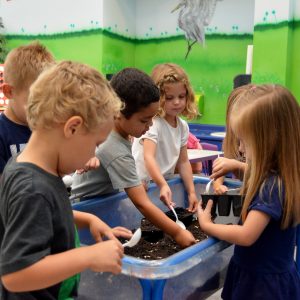 Scientific Thinking
Children participate in fun experiments that extend their knowledge of scientific inquiry. Our young scientists learn to use tools such as magnifying glasses and magnets, and experience the wonder and excitement of nature.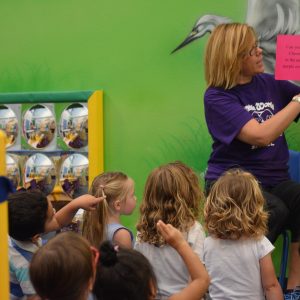 Language & Literacy
Our young authors explore the wonder of books and writing. Interactive language games strengthen children's alphabetic and phonological awareness. We promote a love of reading as we investigate a literary genre each month.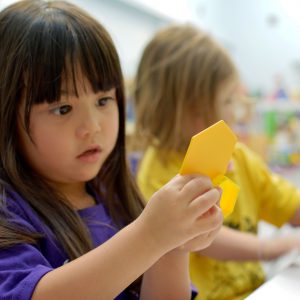 Mathematical Thinking
Children put their mathematical thinking to work as they compare, count, match, sort, measure, sequence and more. As they size up their world with rulers, scales, and other tools they begin to see the power of math all around them!
Exploration
The Exploration Station focuses on developing children's curiosity through integrated small groups.
During the week, children experience each of the following Open-Ended Engagements: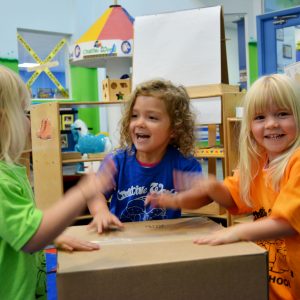 Invitation to Investigation
Experimenting with real objects challenges children to find a new perspective, exercise their imagination, and become independent thinkers. Boxes, wheels, buttons, sponges, rocks, machines, gadgets, and gizmos become items of intense study in this station.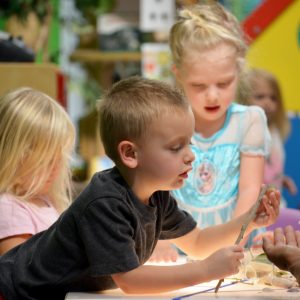 Light Bright
An illuminated table sets the stage for unique learning experiences in this station. Sparkling, shimmering, and glowing objects invite children to investigate color, shadow, and the power of light through a variety of explorations.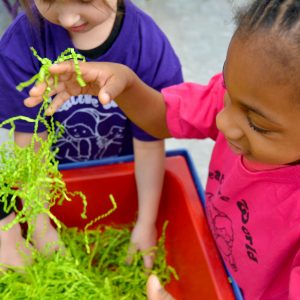 Sensory Sensation
A mess is a powerful learning moment! In this station, children pour, pound, mix, squish, splash and experience their world using all five senses. Hands-on sensory play engages children in problem solving through critical and real-life experiences.
Enrichment
The Enrichment Station focuses on developing children's imagination through integrated small groups.
During the week, children experience each of the following Interactive Experiences: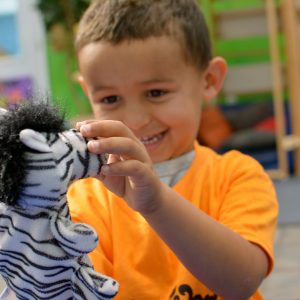 Destination Drama
A child's imagination is the spark! From outer space to the local flower shop, each dramatic destination provides an opportunity for children to take on new roles and experiences! Our actors use new language and dream big as they act out their own world.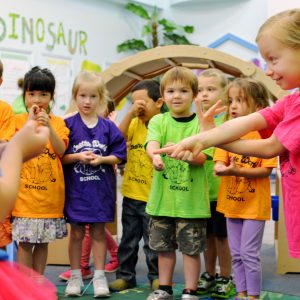 Music & Movement
Children become musicians and dancers as they explore a variety of musical instruments and participate in creative movement activities. Our students have the opportunity to discover a variety of musical genres and how music shapes the world around us.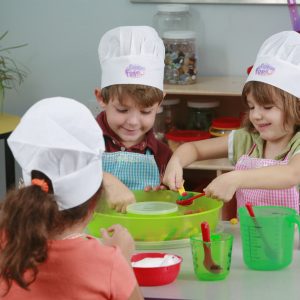 Cool Cooking
Each week children serve up theme-inspired dishes that explore the wonder of cooking. Our kid chefs measure, mix, follow recipes and create tasty learning treats. Cooking is a fun and educational way to practice important skills and strengthen every learning domain.