Have plenty of Summer Fun with the right kind of Sun Protection!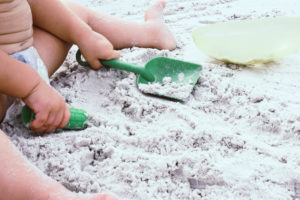 As the sweet, hazy, lazy days come and go, be sure you are prepared to celebrate, explore, and enjoy every moment safely!
Here are some of our top picks to be ready for Summer days in the sun:
1. Sunscreen
It goes without saying that you should slather on the sunscreen every time you head outdoors. But what kind of sunscreen is best?
"Many people believe that sunscreen labeled for kids and babies is a special formula, is "safer" than other sunscreen, or that it's regulated by the government, according to a recent survey of 1,000 adults in the U.S. by the Consumer Reports National Research Center. The fact is that the Food and Drug Administration doesn't make a distinction between kids sunscreen and other types, nor does it hold sunscreen to a higher safety standard for children."* Additionally, the FDA does not recommend spray sunscreen for children!
The most important thing is to purchase a sunscreen with zinc oxide and/or titanium oxide (opting for minerals over chemicals) and spread it on early and often!
2. UPF Clothes
One of the best ways to protect your skin is to cover it! But the kind of fabric you use may make all of the difference.
The National Skin Cancer Foundation explains what trendy "UPF" labeling on clothes means:
"UPF, a concept originally standardized in Australia in 1996, stands for ultraviolet protection factor, which quantifies how effectively a piece of clothing shields against the sun. The label means the fabric has been tested in a laboratory and consumers can be confident about the listed level of protection. It is based on the content, weight, color, and construction of the fabric, and indicates how much UV can penetrate the fabric. For instance, a shirt with a UPF of 50 allows just 1/50th of the sun's UV radiation to reach your skin."**
So, long-sleeve sun shirts, pants, and hats are worth the investment in terms of skin protection for your little one!
3. After Sun Care
In spite of your best efforts, your child will get increased sun exposure this summer. So, how can you treat or care for sun damaged skin?
There are a multitude of products designed to soothe sunburned skin. Forego pricey labels and chemicals in lieu of good old Aloe Vera. If you don't have an aloe plant, find the purest aloe gel you can and use it to soothe your little one's skin!
Follow our Creative World School blog for more Summer Safety tips all summer long!
*http://www.consumerreports.org/cro/2014/06/best-sunscreen-for-babies-and-kids/index.htm
**http://www.skincancer.org/prevention/sun-protection/clothing/protection