This month at Creative World Schools, we are on the GO GO GO as we rev up, choo-choo, and glide through an investigation of transportation.

This is an awesome inquiry theme that engages all of our young children for many reasons… in fact, it perfectly hits all of our qualifications for our young students to have an authentic learning experience:
IT IS FAMILIAR – All young children rode a car (or maybe a bike!) to get to school… so it's a very familiar concept.
IT IS ACCESSIBLE – From off-campus learning with our older children to in-house experts and field experiences with our students of all ages, we can bring the cars, trains, trucks, and buses to them.
IT IS COMPLEX – Transportation offers incredible possibilities! From the fundamentals of mechanics and "how things go?" to the social studies and environmental questions "where do we go? Who do we go with? What is it like?", our students can put their thinking caps on and ask ALL kinds of questions to get their inquiry started.
In our inquiries, we follow the KWL: what do we KNOW, what do we WANT to know, and what did we LEARN? These three phases are a powerful structure to guide each class's inquiry.
Here's a sneak peek at some of the fun activities we'll be doing to kick-start our investigations… and ways you can park some of the fun at your own front door!
Using TODDLERS as an example, here's where we start, with a WEB!
It's best to begin with some slight suggestion, so that your class begins to focus on one "train" of thought (pun intended)…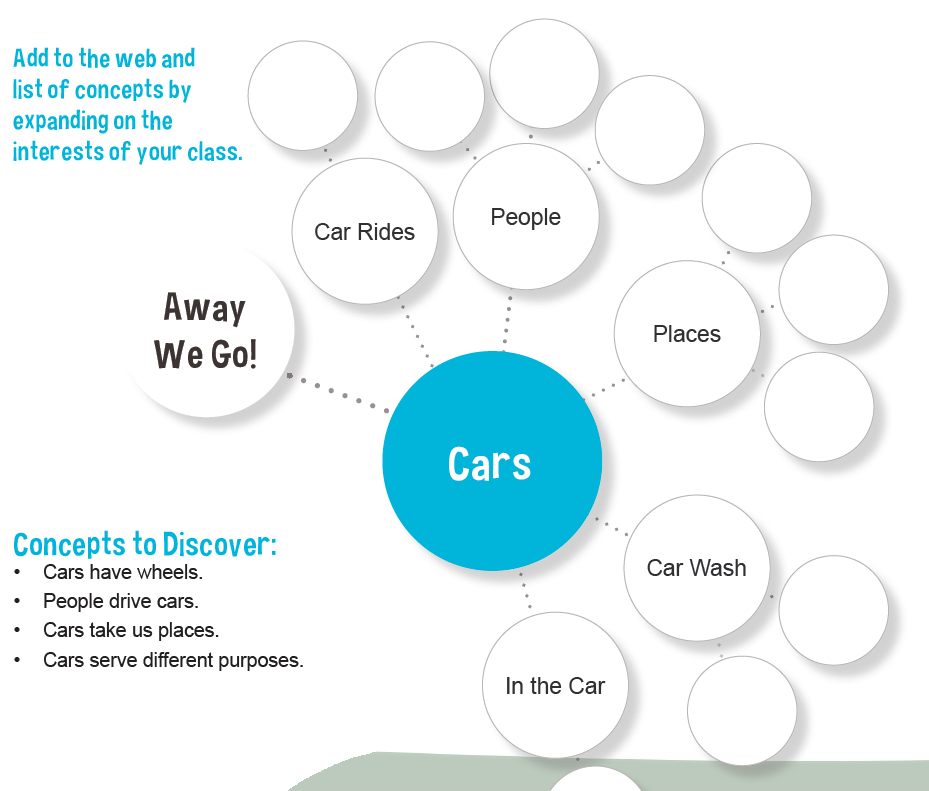 Our teachers will take this as a launching point and begin to introduce cars throughout the toddler day and talk about cars, sing about cars, and play with cars as they begin their journey of discovery!
Want to get in on the fun? If you are not yet enrolled, find the Creative World School near you!