There are a few approaches to Early Education that have been around long enough and are popular enough to be familiar to us as parents. When someone says "Montessori," images of neat trays with wooden blocks spring to mind. Parents who are "in the know" often want to know, from us, where does Creative World fall among these common approaches?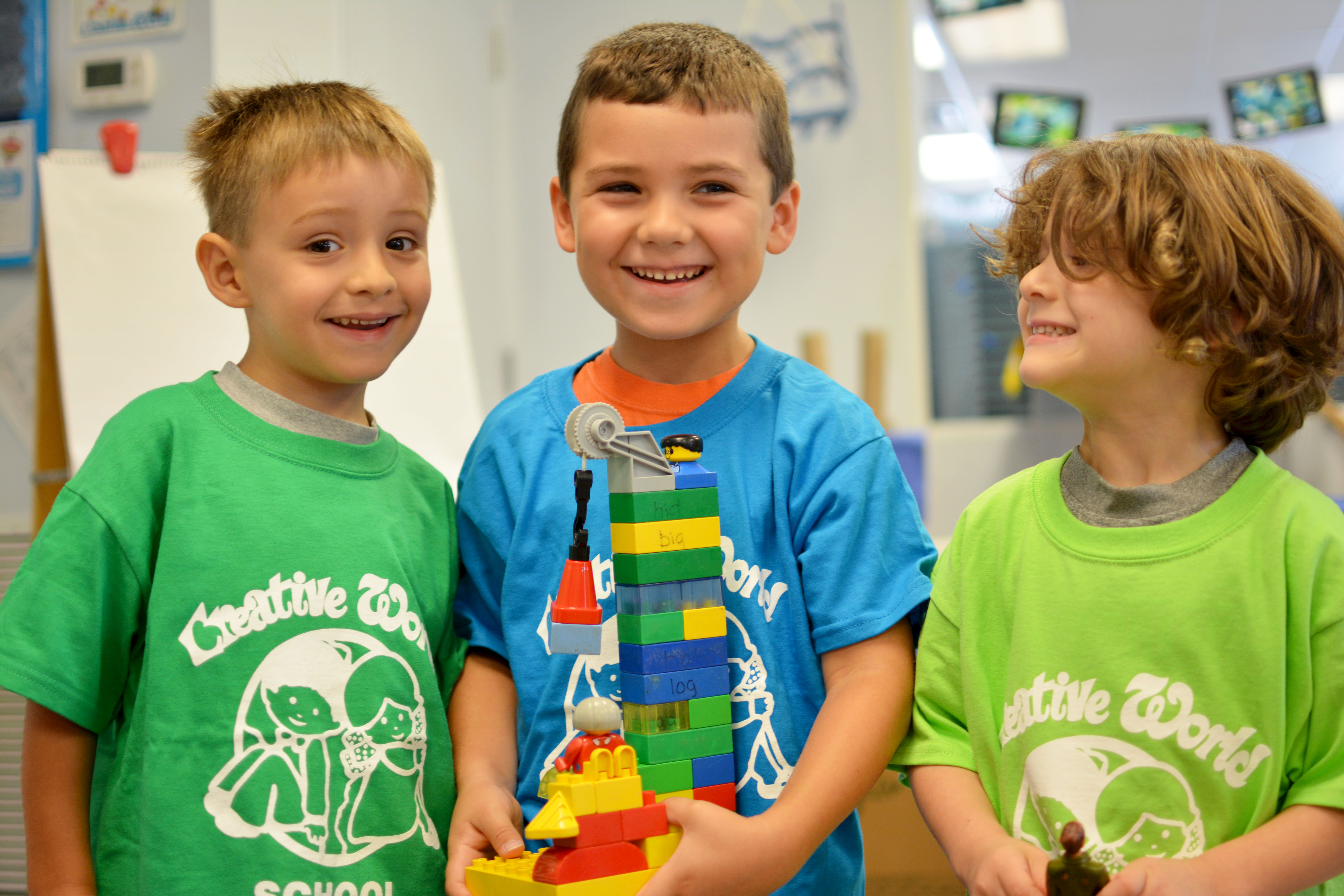 Here are some basic distinctions:
MONTESSORI
Montessori education began in the late 1800's with Dr. Maria Montessori. Many of its philosophies and practices are great and encourage independent learning and investigation at a child's own pace. "Freedom within limits" is a catchphrase you may hear associated with this style of education and it was a revolutionary departure from formal practices.
THE DISTINCTION – we would distinguish ourselves from Montessori in a few ways, perhaps most starkly in that Montessori schools provide children with a prepared environment. This means, while their activities and experiences may be fairly open-ended, the framework within which they have these experiences is meticulously cultivated and maintained. In contrast, we believe young children learn best in an inspiring, open environment where they can re-arrange, re-imagine, and re-purpose the use of the materials and objects around them.
REGGIO
The Reggio Emilia approach was developed after World War II. It purports a child's active participation in learning through hands-on activities. This is all great and has proven highly effective! The Reggio approach also focuses on collaboration and community involvement, as well as the importance of documentation. Philosophically, this approach is inspiring and powerful. 
THE DISTINCTION – the real challenge in its execution is in the individual teachers' ability to facilitate authentic learning experiences with so few guidelines or little direction. To digress this significantly from traditional learning environments can be a huge stretch for many educators and allow for some challenges in the classroom.Creative World School, while wholeheartedly endorsing and supporting the independent learning of children, also offers a systematic approach to each month's inquiry, to empower teachers to do their best.
The Creative World School Difference: Inquiry-Based Learning that includes the 3 E's = Education, Exploration, and Enrichment.
When Creative World School began educating young learners almost 50 years ago, our founder Ms. Billie McCabe gleaned the best from her extensive experience and the latest research to give birth to our unique educational approach. As her daughter, CEO and Early Education Expert, Dr. Marianne Whitehouse took the helm, our commitment to Inquiry Learning grew.
Our Educational Philosophy centers around the 3 E's = Education, Exploration, and Enrichment.
We fully endorse play… as it's meaningfully facilitated by expert educators.
We believe in a child's independent learning journey… as it's guided by an inspiring environment and ample resources for children to find the answers to their amazing questions.
We understand that children thrive on variety and monthly enrich their play and materials in the classroom with fresh and new invitations to explore.
Get in touch with a Creative World School near you to see this unique approach to learning in action!