At Creative World Schools, we are so proud of our awesome leaders and the way they advocate for best practices in Early Education.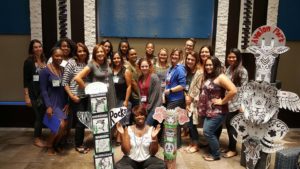 In Orlando, Florida, our school at Avalon Park is led by Executive Director Theresa Evans. Theresa is an educator with incredible experience and creativity. She has cultivated an inspiring culture that values learning. Here is a sneak peek at one of the exciting initiatives happening at Creative World School Avalon:
We would like to share with you the "family style dining experience." Family style dining is more than a gathering of people in order to eat a meal together and its benefits are far greater than what most might think. Family style dining is a time when the whole unit, whether it be a classroom or a family can contribute to the mealtime experience in a multitude of ways. Having children help prepare the table setting gives them a sense of purpose and teamwork for a greater goal. Sitting around the same table elicits great conversation which can lead to higher vocabulary. Eating together and passing food helps to practice good stewardship to one another in this communal ritual and finally the cleanup process helps to hard wire accountability to our environment.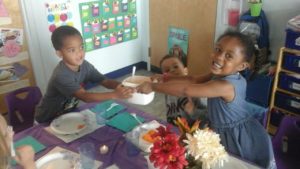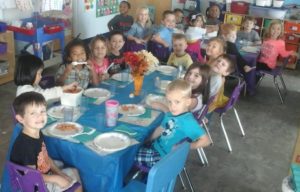 Our Chimps class has a "Fancy Dining" experience every Wednesday where children make invitations for special guests, create their own place mats and choose soft music genres of either Jazz or Classical.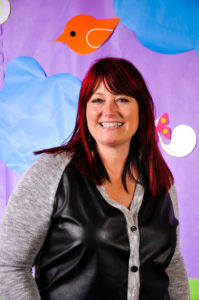 My name is Theresa Evans and I have been privileged to spend my career investing in children! My undergraduate work was in Psychology, I am accredited in Child Development, and am currently working on my PhD in Organizational and Industrial Psychology. I have 25 years of experience in early education. I am the mother of three adult children and five grandchildren. I love spending time with my family, going to the beach, hiking, and being outdoors! I take my enthusiasm and appreciation for the world around me to work every day, understanding that it is my job to cultivate great teachers who will in turn educate each child in our center. As a leader, I develop people and help them to grow. I love that Creative World offers every child an opportunity to learn in their special way, both in the classroom and through group experiences in the Exploratorium™.