Open ended loose parts play provides children opportunities to explore and investigate the unlimited possibilities of materials. When given a chance to manipulate materials children become artists, designers, and engineers.
Rich, stimulating experiences provided in a safe, responsive environment create the best conditions for optimal brain development
(Promoting Creativity for life using Open-Ended Materials by Walter F. Drew and Baji Rankin, published in Young Children July 2004)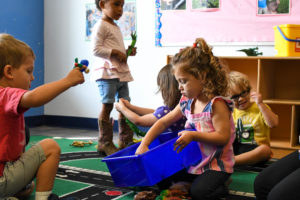 These materials provide potential use (typically re-use) for purposes different than for which the items were originally manufactured. Research and practice has demonstrated repeatedly that open-ended materials create powerful resources in early childhood education for developing children's problem solving skills, math, science and literacy skills, imaginations, appreciation of not only their ideas but those of others, and understanding of how things work.
To design great buildings, architects and designers use a lot of creativity! Foster creative thought in your child by keeping the following open-ended materials available for exploration:
Buttons
Bottle lids
Twist ties
Bubble wrap
Toothpicks
Scraps of fabric
Plastic food containers
Scrap cardboard
Rubber bands
Paper scraps
Yarn or string
Coffee filters
Clothespins
Shells
Pipe cleaners
Rocks
Pinecones
Blocks
Beads
Pompoms
Craft sticks
Marbles
Seeds
Toilet or paper towel tubes
Old keys
Paint stirrers