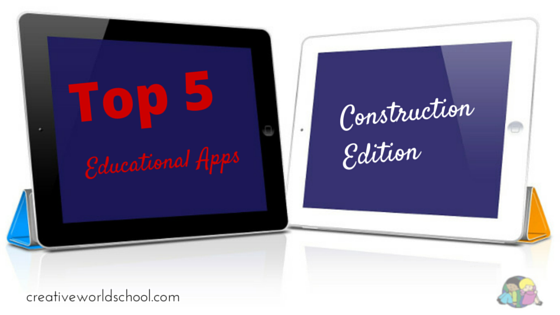 An educational app may be a source of motivation and engagement for children in their early years. Technology has inevitably become a part of every day life for most young children. According to the new study, 68 percent of 2-year-olds use tablets, 59 percent use smartphones and 44 percent use video game consoles. If your little ones use gadgets, then check out these fun and educational apps we loved in April!
1. As we discuss Build It Up! this month at Creative World Schools, we explore materials, tools, and buildings all around us. Robot Factory app (available for iOS) allows kids to create any robot they can imagine from 50+ parts: exoskeletons, telescopic arms, spider legs, and more. They can then run their robots through a fantastical world full of obstacles.
2. In Peg + Cat: The Tree Problem ($2.99, iOS or Android, ages 3-6) , kids use spatial reasoning, measurement, problem solving, and planning to build bridges, roll snowballs, grow plants, move geysers, and more. Cat keeps getting stuck in trees, so kids must build bridges or steps for Cat to jump down and into Peg's waiting arms. Six worlds present different versions of the problem.
3. Kalley's Machine Plus Cats ($2.99, iOS or Android, ages 4+) is inspired by a drawing created by a real four-year-old, Kalley. Kalley drew a picture of a machine that would make food so her dad didn't have to leave home to commute to a new job anymore. This storybook app invites kids to explore the machine and see the effects of each interaction. Kids are in charge of each twist and smash of the machine. Kids can smash, inflate, shrink, burn, paint, grab, drop or mold stuff into shapes.
4. In Grandpa's Workshop ($0.99-$1.99, iOS or Android, ages 4+), kids help Grandpa build things. They measure, paint, divide boards, hand over the right tool or number of screws, and more, all while practicing some basic math skills. Kids also can see a few live-action videos of some building techniques.
5. Dragon Shapes: Geometry Challenge (Free-$2.99, iOS) is a set of interactive puzzles that teaches kids early geometry concepts. Kids drag and rotate shapes into place to complete tangram-style pictures. As kids complete the puzzles, they learn how to arrange small shapes to make larger composite shapes and learn important attributes of shapes. There are four levels of difficulty that follow a story about rescuing a village dragon, and each level focuses on puzzles related to a particular animal: butterfly, turtle, mountain goat, and dragon.
Kids will have a lot of fun with these and learn more about construction. Just remember to keep your children's screen time limited to two hours a day! If you enjoyed this post, make sure you check out Top 5 Educational Apps for Preschoolers!