Creativity is a part of every day life, from making a bed to making dinner. These routines may seem trivial to us, but to children, they have the potential to reinforce countless emerging skills.
Let Your Children Help!
Children are eager to be a part of the processes of every day life. Let's just acknowledge right away that of course everything will take longer… and may not be done "right"… and it isn't always possible to include your young child each time. Even small shifts, though, can help move your family culture in this direction.
At different ages, your child is able to help around the house in ways that can encourage independence, reinforce self-esteem, and establish patterns of self-care and responsibility.
Help with Food
Food is something children encounter several times a day. Including them in the planning, preparation, serving, and clean-up that accompany meals can be done at a very early age.
One of the great aspects of food is that it promotes awareness in many areas, such as…
Science: quantity, measurement
Fine Motor Skills: gripping, pouring, scooping
Body Awareness: senses, preference, nutrition
Talk to your child about what you are choosing to eat and why. Invite them to "set the table", pick and lay out dishes and utensils, participate in family-style serving, and clearing/wiping down tables. There are so many ways they can help with food!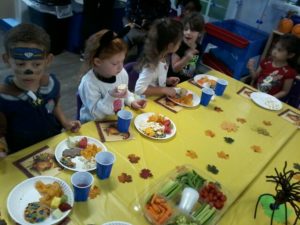 Help with Routines
From sun-up to sun-down, there are many routines embedded in your family culture. Think of how you can involve your child in morning and evening routines:
In the AM:
Packing lunches
Making beds
Tidying up
Loading the car
In the PM:
Unpacking lunches
Unloading the car
Putting away toys and books
Prepping beds
Helping your child be aware of all of the work that goes into their daily life will encourage them to be responsible!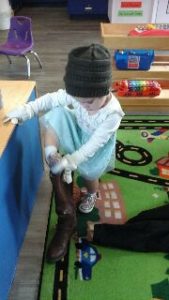 Help with Self-Care
From the doctor's checklists to potty training, we all realize that children's growth in self-care is a vital component and measurement of their proper development. Encouraging movement through the stages of self-care is a powerful way to invest in your child! Children should grow in their ability to help themselves:
Clothes: from toddlers who can only take off certain clothing to preschoolers who can dress themselves, resist the urge to "do it for them" under the goal of efficiency. A little patience, a little letting your child struggle through the leg-holes and head-holes and socks will pay off in independence!
Hygiene: first, your child can wash their own hands (this step should come during potty training) but they should graduate into larger skills, such as wiping then blowing their own nose, brushing their own teeth (with supervision), applying soap in the bath, and brushing their own hair.
"If you make a mess, clean it up" – part of self-care is encouraging your young child to manage their own environment. This includes picking up toys, putting away clothes, and keeping track of their belongings (if this feels like the holy grail, don't worry, it's a pretty advanced stage). 😉
The long and short of it is, invite them in… encourage them to participate… affirm their efforts… and trust them as they grow!