Screen time is (yet another!) an increasingly debated aspect of parenting. From no-limits to no-screens, how do you cut through all of the conflicting advice and move forward with an intentional and thoughtful approach?
What kind and how much screen time is okay for children?
First, all experts agree that there is NO evidence to suggest that before the age of 2 screens have any benefit to language or other learning.
However, as they mature from toddlerhood, almost every one of our children are grabbing for our smart phones and have some understanding of how to swipe it open and tap around! Where do you start setting good habits?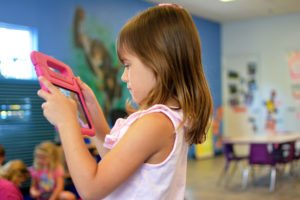 Our Educational Experts at Creative World School have some analysis and recommendations to offer for two of the most common "digital educational resources," eBooks and Ed Apps:
eBooks
For pre-readers, eBooks are a great way to have a digital read-aloud. The pitfall is in replacing the intimacy of sitting down and reading a book together. Our recommendation is that you allow eBooks as an addition to – and not a replacement for – physical books. Turning pages, scanning left to right with their eyes, and understanding narrative flow through sequence are all vital elements of pre-reading and are digitally irreplaceable.
Educational Apps
Not all educational apps are actually helpful. Many times, what is marketed as "educational" is really just a series of stimulus-response games that a child can memorize without genuine knowledge or retention of concepts. Use some criteria to judge an app:
Is each sequence in the experience the same? In other words, does it follow a predictable pattern or does it require more attention to answer questions or progress?
Do children have choices and different domains to explore or is there one option? (Choices are preferable)
Does your child react to the app by talking, pointing something out to you, or otherwise engaging externally? (Indicating actual knowledge and growth).
We would never judge someone who hands their preschooler their phone as a reward or to help them wait or be entertained… we just urge you to do so thoughtfully and with a plan in place!