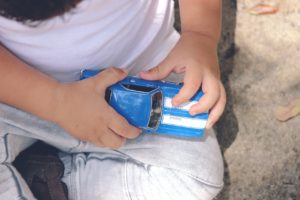 Family road trips can be tons of fun, however, sometimes we can run out of activities to entertain our kiddos during the long drive. (We can only sing our favorite songs so many times, right?!)
We checked out https://kidsareatrip.com/20-awesome-road-trip-activities-for-kids/ and found some great activity ideas for family road trips! Here is a list of our top 10 favorite ideas and games we are sure will keep your kids engaged and entertained during the drive to your road trip destinations!
Sticker books (children love stickers that can be peeled and reused)
Magnets with a cooking sheet (or a great place to play with blocks!)
Silly Putty (does not break up, dry out or stick to everything like play-dough!)
Pipe Cleaners (the creative possibilities are endless, from stick figures and jewelry to abstract shapes!)
Coloring books and coloring pencils (make sure to pick washable pencils or markers, crayons can melt in your car if they get lost!)
Maze books and boards (children of all ages love mazes!)
Books! Audio, or read-aloud (you can preload audio books on electronic devices and choose a few books to read aloud to break the monotony of the drive, these can be rented from your nearest library)
A clip board, white paper, and stamps! (blank canvas = endless masterpieces!)
Mini dry erase board and dry erase markers (from hang man, tic-tac-toe, making their own mazes, dots, to practicing math problems, dry erase boards have many possibilities for fun, learning and creativity)
I spy (this can be played the traditional way where you or your child picks an item or you can print a list for each child of I spy items to choose from -like a scavenger hunt!)
(We cheated…) Last but not least, you can also download your child's favorite movies, television shows, or educational programs (from Netflix) onto an electronic device such as a tablet or cell phone and give them some headphones! (You can upload them on the same device with the audiobooks!) Be sure to check out our other blog post about screen time and young children!
We hope your family has a blast on your next road trip, during the drive and as you arrive!