Here are some facts about VPK programs in Florida.
According to The Center for Public Education, research shows that children who participate in high-quality prekindergarten programs are better prepared for school, perform better on standardized tests, have better school attendance rates, develop lifelong social and emotional skills, and are less likely to drop out of school.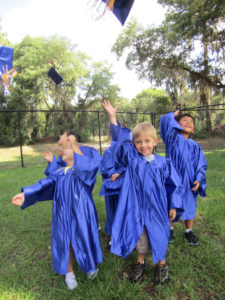 VPK is a free educational program that helps your child prepare for kindergarten. VPK helps build a strong foundation for school using educational resources appropriate to different stages in your child's development.
Did you know?
Nearly 80% of Florida's 4 year old's attend VPK.
Florida is a National leader in VPK access.
Around 6,200 private, public and private child care centers offer VPK.
Let's jump into the facts!
What will my child learn?
You child will develop with these 8 skill areas:
Physical Development
Approaches to Learning
Social and Emotional Development
Language and Literacy
Mathematical Thinking
Scientific Inquiry
Social Studies
Creative Expression Through the Arts
What are the eligibility requirements for VPK?
Children must live in Florida and be 4 years old before September 1st.
How do I apply for VPK?
You can apply online by visiting www.familyservices.floridaearlylearning.com. Make sure to have an email address, proof of Florida residency and proof of your child's age to apply. Once your application is approved you will receive your Certificate of Eligibility which you can bring in to any VPK provider such as Creative World School.
What kind of VPK programs are out there?
Private, public, and charter schools as well as private child care centers. You can enroll your child in a school-year, summer or specialized instructional services program.
How do I find a VPK provider for my child?
Contact your local early learning coalition. You will find a map of all 30 coalitions in Florida on www.floridaearlylearning.com. You can also visit www.cares.myflfamilies.com/PublicSearch to view provider profiles. Finally, you can call your local Child Care Resource and Referral office to receive a customized list of VPK providers. To find your local office, you can call toll-free at 1-866-957-3239.
If you have a child who is soon-to-be 4 years old, you know how curious they are and how much they may already know. Sign them up for VPK to let their mind's soar and grow!