We are excited to announce Kenedy Pierce as our 2023 WOW Award Teacher of the Year!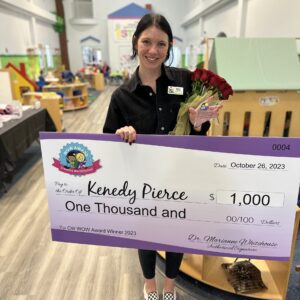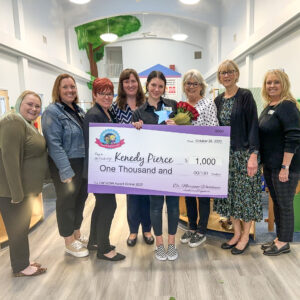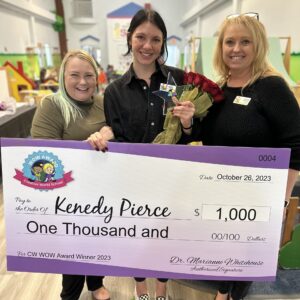 On Thursday, October 26th members of our Corporate Team surprised Kenedy Pierce, a beloved teacher from Creative World at Liberty, with the prestigious 2023 WOW Award.  
The WOW Award is the highest recognition our educators can receive. To be considered, one must show excellence in IQ performance, education, professionalism, and team collaboration. Kenedy has served as a shining example of these qualities throughout her five-year journey with Creative World School.
Kenedy started as a student-teacher and during her time at Creative World, she has held different roles including co-teacher, lead teacher, and teacher trainer. In these roles, she has managed many responsibilities that have allowed her to polish her teaching skills and relationships with families. All her efforts at Creative World School have paid off as she has received an A+ IQ score for two consecutive years.
During the nomination process for the Teacher of the Year Award Kenedy mentioned that "The most rewarding part of my job is being part of the children's developmental milestones." Her patience, understanding of children's different needs, and initiative make her an outstanding educator.
Her impact at Creative World has been recognized by both families and colleagues. "Miss Kenedy has really helped in the many transitional phases of Emery's growth as she's moved up in classrooms at Creative World. Emery loves Miss Kenedy, and says she is her best friend and her all-time favorite teacher! We are beyond grateful for the care and attention she continues to give to Emery, in all the stages of her growth and development. She is the sweetest, most nurturing, and attentive teacher, and she goes above and beyond for her students and their families. We cannot thank her enough for loving our girl so much, and for helping to give her the best social and learning experiences at Creative World School. She will forever hold a special place in our hearts!"  -Katie F. and Wyatt F.
"Kenedy is a huge reason why I enjoy coming into work and into our classroom. She makes it feel less like work and more like we are a team that gets to teach/guide little minds. She makes it fun and inspiring. All our kids show excitement when Kenedy walks into the room. They all run to her when it's time for small groups because they know she has something so fun for them to do. She makes sure each kid is a part of the learning experience. Kenedy is the perfect example of who you would want as an employee, co­teacher, and as a leader for the younger children to learn from and look up to." -Lindsey B., Co-teacher
We are proud to have Kenedy as part of our Creative World family and congratulate her on this well-deserved recognition. Thank you, Kenedy, for your hard work and commitment to our students and families!