Big congratulations to Shone George who won "My Favorite Friend" Facebook contest! Great job on getting over 120 votes!
Here is Shone's parents feedback:
First of all,  a big thanks to Creative World School, to conduct such a friendly competition; it was really interesting and the whole family enjoyed spending time together with our child. Shone is a big fan of the Disney channel and all of its characters.  He is also very excited to visit Disney World parks.  We have an annual pass; we visit whenever we have time.  During these visits he loves to be photographed with the characters and collect their autographs.  The contest picture was shot at the Disney Animal Kingdom; he was very happy and excited to visit his friend "Rafiki".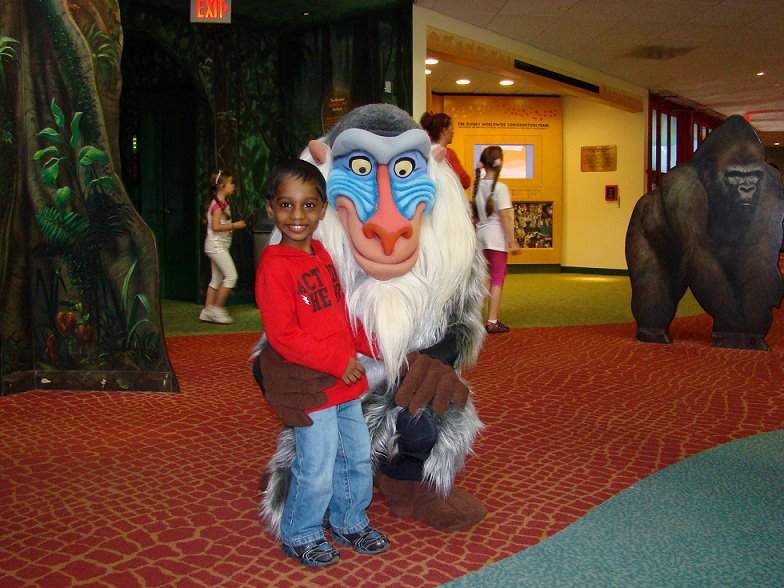 The best part of the contest is that the whole family enjoyed it till the end.  It was a friendly competition – we even voted for other competitors.  I would say the best part was that we could find time for small chats with most of our friends that we hadn't had contact with in a while.  We are really happy to see the way they supported us! Most of our friends, coworkers, family members and their extended friends supported us in the contest. Without their support we couldn't have achieved this many number of votes!
Thanks to each of you for your support to Shone George in this contest!
Shone was very excited when he saw that Mickey Mouse was on the Gift Card!  He wanted to go shopping!