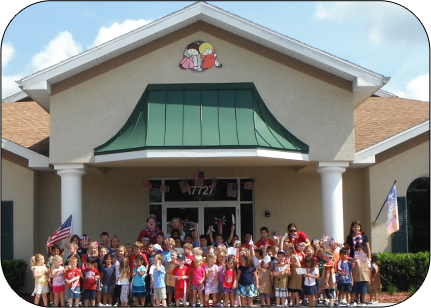 Creative World would like to showcase our school CW Ballantrae in Florida! We are so proud of all of the students and staff and we are so lucky that they are all in the CW Family! We interviewed them to get more information about their school and this is what they shared with us!
CW: Where is CW Ballantrae and when did it open?
BAL: Our school is also located in the city of Land O' Lakes, which is 30 miles north of Tampa, FL. Our school first opened its doors in 2007 and we have grown ever since!
CW: How many students and staff are currently at CW Liberty?
BAL: At present, we have 301 students enrolled with 34 staff members supervising.
CW: What range of Educational Programs do you offer at your location?
BAL: We offer Infant through School-Age care at our school, including VPK!
CW: Besides your daily programs, do you have any other programs at your school?
BAL: Yes! Right now, we offer Tumble Bugs and Kids @ Play with Coach Brian. The children really enjoy these special programs!
CW: What are the student's favorite activities from the Go, Go, Go theme?
BAL: The children really enjoy this month! Some of their favorites activities are: Track Painting, Clothespin Airplanes, Go, Go, Go Matching, Train Tag.
CW: What events this fall are you looking forward to the most?
BAL: We are looking forward to our Story Book Parade on Oct. 31st and our Fall Festivals on Nov. 6th and 7th! For our Story Book Parade we will all dress up as our favorite character and march in our parade, it is going to be a lot of fun!
CW: Any other details you want to share?
BAL: We are so excited to be the "School of the Week"! 
Thank you CW Ballantrae for sharing this with us! We, too, are excited about the wonderful things going on at your school!
Go to the link below to check out their School Site and learn about the fun events planned at Creative World Ballantrae!
https://www.creativeworldschool.com/preschool-tampa-ballantrae/index.php