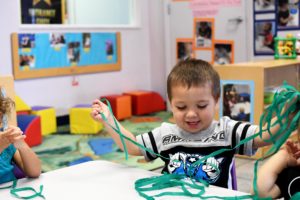 "Imagination is the beginning of creation." George Bernard Shaw
Being a creative thinker is a precursor for being a successful leader. Children who are given the freedom and affirmation to establish their own creativity will maintain this originality throughout their relationships and careers.
So, what are the qualities that you can identify and nurture in your early learner to promote creativity?
This may feel unnecessary (when your four year old is on his 10,000th question and it's only been a 30 minute car ride) but modeling meaningful questioning is an important element of confident creators! Teach your little one how to ask better (and successive) questions: "What does it look is happening?" "Why do you think that is happening?" "Could something about this change?" "What if…?"
Anyone who has seen a child on the playground, a bridge, or even a bed can relate: children don't see obstacles, they see opportunities. Anticipating danger is a trait cultivated by risk-exposure. But when children face the world, they feel invincible. Maintaining that notion of intellectual invincibility insulates them from fear of failure, and keeps them open to fresh ideas. Welcoming challenges and problem-solving what doesn't work with confidence are tools in the creative thinkers' toolbox!
Because children have a limited base of knowledge, they don't bring as many assumptions to a subject as adults. This means that, while adults have to strain to think outside the box, children don't even know the box should be there. This enormous advantage to creative thought is why children have wild imaginations and see the world so differently than we do! Even as their base of knowledge grows, having the support of adults to continue to think creatively can empower children to stay curious.
We believe that it takes a village to raise a creative thinker! Let us partner with you on your child's learning journey by finding your Creative World School.
Check in on our Facebook, Instagram, Twitter, and other social media outlets for the ways we are going to be celebrating creativity this fall.