This month, we are studying all of the People We Know!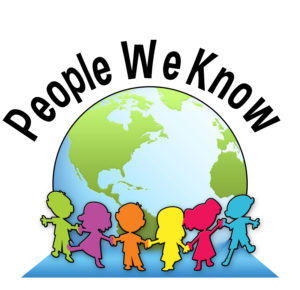 Social connections are a key component of a child's development. Learning familiar faces, names, titles, and jobs can enhance their understanding of the world around them!
Each of our age groups are diving into this study in a way that perfectly fits their developmental stage.
We love using our group reading times as a catalyst for thinking about the topic we're diving into. Here some of our favorite choices, divided up by reading level/age, for you to check out, too!
TODDLERS: 
Baby Happy Baby Sad by Leslie Particelli
Listening Time by Elizabeth Verdick
Llama Llama Time to Share by Anna Dewdney
Look at Baby's House! by Peter Linenthal
Peas on Earth by Todd H. Doodler
Sometimes I Like to Curl up in a Ball by Vicki Churchill
We're Different, We're the Same by Bobbi Kates
Whose Knees are These? by Jabari Asim
Whose Toes are Those? by Jabari Asim
TWO YEAR OLDS:
Brush Your Teeth, Please by Leslie McGuire
Caillou at the Doctor by Joceline Sanschagrin
Doctor Maisy by Lucy Cousins
Elmo's World: Firefighters! by Naomi Kleinberg
Five Little Firefighters by Tom Graham
Going to the Dentist by DK Publishing
Helpers in My Community by Bobibe Kalman
Jobs (All Change!) by Angela Lambert
Mickey Mouse Clubhouse: Doctor Mickey by Pub. Intl. Ltd.
Police: Hurrying! Helping! Saving! by Patricia Hubbell
Policeman Small by Lois Lenski
Sam's Speedy Fire Truck by Mary Packard
What Do People Do All Day? by Richard Scarry
Whose Hat Is This? by Sharon Katz Kooper
PRESCHOOL:
A Day With a Mail Carrier by Jan Kottke
The Day the Crayons Quit by Drew Daywalt
Dear Annie by Judith Caseley
How Full is Your Bucket? For Kids by Tom Rath
If Kisses Were Colors by Janet Lawler
The Invisible String by Patrice Karst
The Jolly Postman by Allan Ahlberg
My Book About Me by Dr. Suess and Roy McKie
My Name is Yoon by Helen Recorvits
Otis by Loren Long
Pete the Cat: Rocking in My School Shoes by James Dean
The Post Office Book: Mail and How it Moves by Gail Gibbons
Making Friends is an Art! by Julia Cook
My Name is Yoon by Gabi Swiatkowska
Please Write Back! by Jennifer Morris
The Skin You Live In by Michael Tyler
Splat the Cat by Rob Scotton
We're Different, We're the Same by Bobbi Kates
The Way I Feel by Janan Cain
To The Post Office with Mama by Sue Farrell
The Wet/Dry Book by Kate Spohn
What Do People Do All Day? by Richard Scarry
Will Goes the Post Office by Olof Landstrom
Whoever You Are by Mem Fox
Whose Hat Is This? by Sharon Katz Cooper
Whose Tools Are These? by Sharon Katz Cooper