There's a reason that a child's earliest exposure to books is full of bright, colorful, textural pictures. As your early learner progresses from  board books to more advanced books, it is important to remember that many components of communication contribute to strong literacy experiences.
In addition to alphabetic knowledge, we know that environmental print and oral literacy are vital to your young one's ability to communicate. As three and four year olds are read to every day, a great way to promote and facilitate their literary growth is to empower them to tell their own stories!
We are loving the resurgence of wordless picture books aimed toward preschool learners. Just last year, several American Library Association Caldecott Notable Mentions (awarded 2015, ALA Awards) included these wordless books! The next time you're at the library, pick up a couple of these new or older titles and see if your child will be able to tell you the story… or create their own!
---
Draw by Raúl Colon

"A boy named Leonardo begins to imagine and then draw a world afar—first a rhinoceros, and then he meets some monkeys, and he always has a friendly elephant at his side. Soon he finds himself in the jungle and carried away by the sheer power of his imagination, seeing the world through his own eyes and making friends along the way."
---
The Farmer and The Clown by Marla Frazee

"A baby clown is separated from his family when he accidentally bounces off their circus train and lands in a lonely farmer's vast, empty field. The farmer reluctantly rescues the little clown, and over the course of one day together, the two of them make some surprising discoveries about themselves—and about life!"
---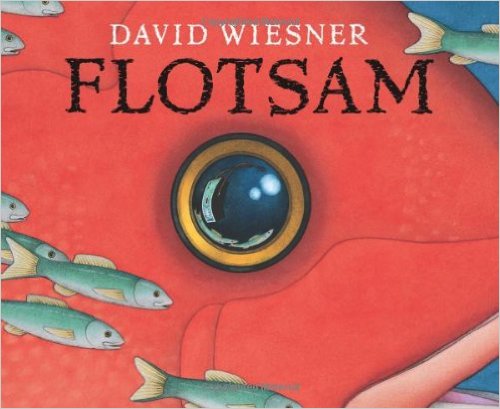 Flotsam by David Weisner
"A bright, science-minded boy goes to the beach equipped to collect and examine flotsam – anything floating that has been washed ashore. Bottles, lost toys, small objects of every description are among his usual finds. But there's no way he could have prepared for one particular discovery: a barnacle-encrusted underwater camera, with its own secrets to share …and to keep"
---
Truck by Donald Crews

"In this wordless picture book, a large, bright red trailer truck packed with tricycles moves through pages of fog, truck stops, and crowded highways."

---

You Can't Take a Balloon Into the Metropolitan Museum  by Jacqueline Preiss Weitzman

"While she's in the Metropolitan Museum with her grandmother, a little girl leaves her prized yellow balloon tied to a railing outside. But its string becomes untied, and the balloon embarks on an uproarious journey through New York City. With an ever-increasing cast of wacky urban characters in tow, it soars past a host of landmarks. Eighteen famous paintings and sculptures are reproduced in this delightful, wordless book that explores the magical relationship between art and life."

---

Chalk by  Bill Thomson

"With eye-catching, realistic illustrations, clever details, and some dramatic suspense, this wordless picture book offers a fresh take on the drawings-come-to-life theme. One rainy day, three raincoat-clad children head to the playground and find a bag of chalk. When one girl draws a sun, something amazing happens: clouds break and a sunny blue sky appears. The second kid draws butterflies, which also appear. But when a boy draws a dinosaur, things get almost too exciting. Luckily, a solution is close at hand."

---