What are
C
hildren
L
earning at Creative World School?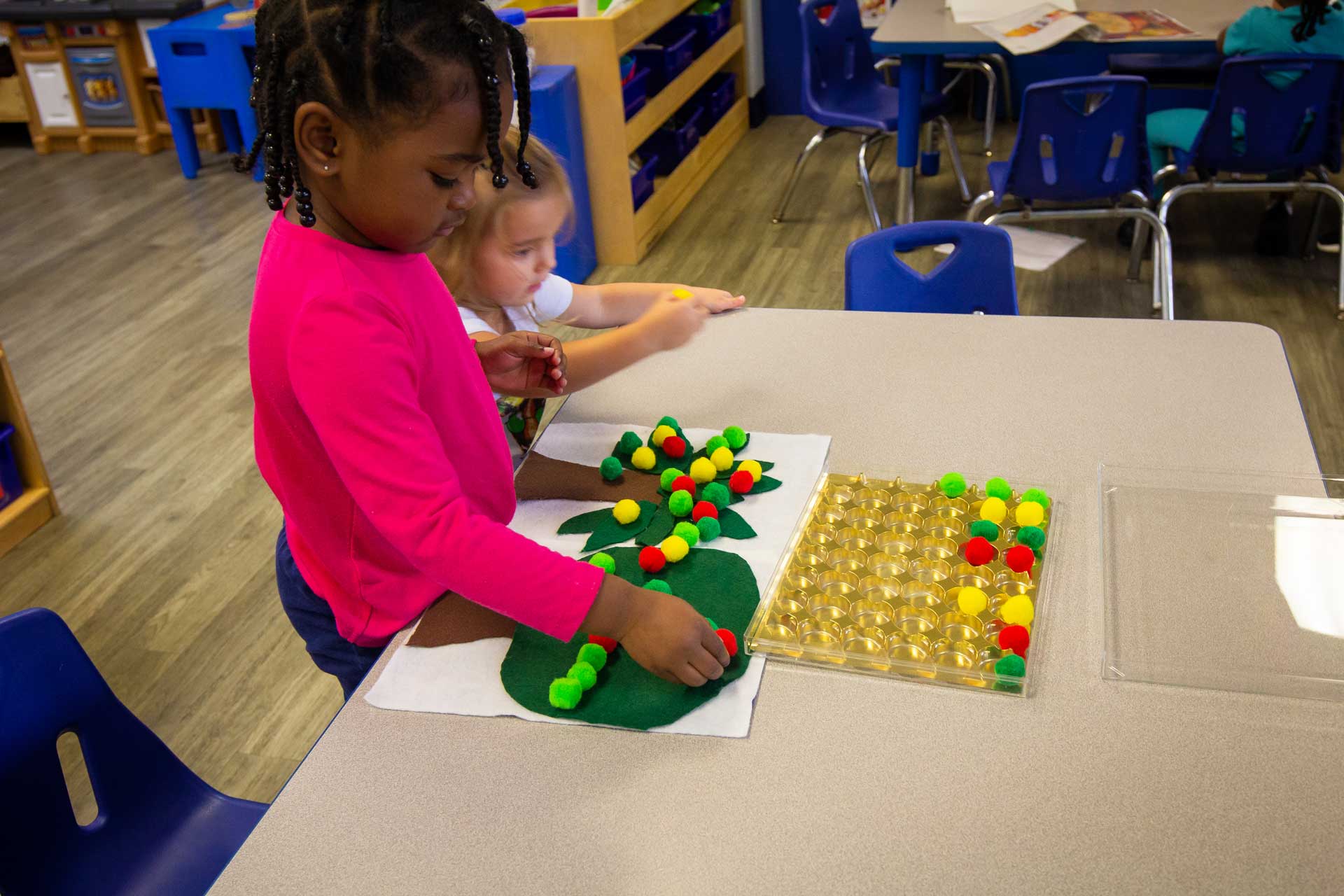 This activity in our preschool classroom is focusing on building children's mathematical skills.
How can you extend your child's understanding of Number Sense?  
Good news! Your child's everyday experiences are impacting their Number Sense – and now you have the tools to help continue their learning!   
Each time your child compares the shape and size of an object they are using or notices the differences in quantity, they are forming early math concepts and laying the foundation for more complex critical thinking and problem-solving. 
Recognizing sequential order in numbers is a child's first step in making sense of numbers. Easy activities, such as counting out loud with your child as you walk from one place to another, introduce number words and the order of numbers needed for basic rote counting skills. As your child begins to count, you will notice they often jump around and may even skip or repeat numbers because they have not yet grasped the sequential order numbers follow. Practice together with concrete, hands-on experiences. Provide opportunities that allow your child to learn to count forward, then backward, building the foundation for multiplication and subtraction.   
Who knew that counting steps together was so important for your budding mathematician? 
Additional activities you can do at home: 
Count items on your plate at mealtimes or the number of bites it takes to eat a piece of food.

 

Look around your environment and count different objects you see, for example, stop signs on the way to school, trees in your neighborhood, flowers on a plant, etc. 

 

Count toys as you clean up! How many red blocks can your child find?

 
Great Counting Books to enjoy: 
Bear Counts by Karma Wilson  
Chicka, Chicka 1,2,3 by Bill Martin Jr. & John Archambault  
Counting by Henry Pluckrose  
Feast for 10 by Cathryn Falwell  
Fish Eyes: A Book You Can Count On by Lois Ehlert  
How Do Dinosaurs Count to Ten? by Jane Yolen  
How Many Bugs in a Box? by David A. Carter  
How Many Snails?: A Counting Book by Jr. Giganti Paul  
Mouse Count by Ellen Stoll Walsh  
One Duck Stuck: A Mucky Ducky Counting Book by Phyllis Root  
Teddy Bear Counting by Barbara Barbieri McGrath  
Ten Black Dots by Donald Crews 
Ten Red Apples by Pat Hutchins  
The Doorbell Rang by Pat Hutchins