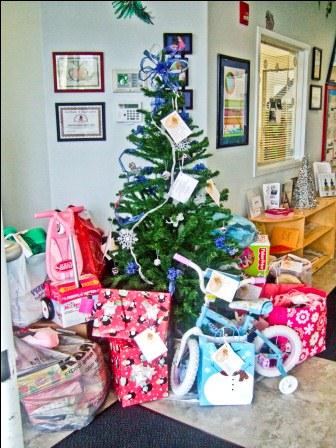 Creative World Land O' Lakes would like to share a special part of their Holiday season with you!
This is our 3rd Annual Angel Tree gift donation program!  The day before Thanksgiving, we decorated our Angel Tree in the school Lobby.  We hold this program every year so that we can be active participants in our community and help give back to those that are less fortunate. We have had so many special moments this season, here is a highlight: one of our VPK students (4yr. old little girl) came in with a new bike one morning before class and told us, "We helped a little girl like me to have a great Christmas morning!"
We are very thankful to have such wonderful parents at our school.  They have contributed to a lot of happy Christmases and we just want to let them all now how special they all are to all of us here at the Creative World in Land O' Lakes!
Included is a picture of our Angel Tree with all the gift donations around it.  This is the second time it has been this full.  We wanted to share this special time with everyone and let everyone know that when communities pull together anything is possible! Our parents and children will be smiling on Christmas morning!